whatzup
(March 2003)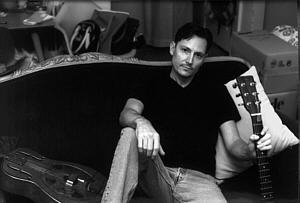 Nominated as a solo perfomer despite his association with his band, The Mobile Homewreckers, David Todoran was equally gracious in winning and uncomfortable in being categorized as a country music performer.

Look, Paula Jo Taylor & Legacy [were] nominated, and they're far more 'real' country than I am. She should have won the award," Todoran said.

Well, the talented singer, songwriter and guitarist has gotten used to all this by now. Although more comfortable wearing the label of Americana, Todoran understands that the addition of steel pedal guitar player Bob Craven to the Homewreckers gave the band its underlying country sound. "Bob's a real country music guy. He's played with a lot of real country musicians," Todoran said.

If Todoran has far more in common with Steve Earle and John Prine than with Clint Black or even Keith Urban (for whom he's opened at the Scottish Rite Theater), Todoran has impeccable local music credentials. He and Kenny Taylor were the backbone of the Red Belly Boys before many of the people at the Whammy Awards show could get into places with liquor licenses.
And he's had great success in Europe with two of his more recent CDs, Under My Skin and Solstice. The Mobile Homewreckers treated the crowd to a rendition of the classic "Under My Skin" during a rollicking set at the show.

Still, Todoran never gets too comfortable in one area. He recently completed work on a new CD in Berlin called Luck in This Life, scheduled for release in the spring. He describes it as a departure from his recent efforts, "darker" and more complex musically, due to his collaboration with two Berlin-based musicians and producers.

"I wrote all the songs on Luck in This Life, but I'm not an autocrat when it comes to recording my music. I depend a lot on the interprations and contributions of the musicians I'm playing with. In this case, recording in Berlin was a totally different experience. There's something about the city, a feeling that it's still finding itself, that comes out in the record. It's a reconfiguation of what I do, not a reinvention," Todoran said.

Undoubtedly, but when he mentions Lou Reed, David Bowie and U2 as having their music changed by their associations with the Berlin vibe, you can be sure Todoran's next effort will defined by a different kind of country — a landscape of the mind. Whatzup – March 2003